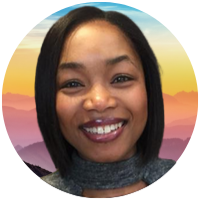 I'm Sharmell and here is my story.
When I was at school art was my favorite subject, and even though I had no idea what I wanted to do with my life I somehow felt that pursuing art would not lead to a "real career".
So I put my creativity on the back burner and instead went on to get a degree in Law from the University of Central Lancashire, become a CIMA Part-Qualified Management Accountant, and set up my own accounting business.
So definitely not the typical career path for a creative mind! However, all that left-brain activity from my chosen career choice left me somewhat unsatisfied and so after 16 years of not touching so much as a lick of paint I decided to dip my toes back into the creative waters and started drawing and painting in my spare time.
Then a few years later I stumbled across the world of self-publishing and in October 2014 I published my first non-fiction book based on my personal experiences in overcoming a particular illness called Clostridium Difficile. In 2015, I self-published my second non-fiction book about bookkeeping.
Around this time I became aware of colouring books for relaxation and stress relief for teens and adults. This really resonated with me as something I would love to create myself.
But it was easier said than done, as, unlike my non-fiction books which only needed me to write, creating artwork and turning it into colouring page illustrations involved learning a whole new skillset.
So after many months of research, trial and error, frustration and not to mention tendonitis from sketching tons of design ideas. I eventually ended up self-publishing a collection of 10 colouring books.
Over the years I have learned how to create and self-publish journals, diaries, notebooks, sketchbooks, recipe books, activity books, and even puzzle books like sudoku!
All this has been done in my spare time and with no special skills or knowledge, just a willingness to learn new things. There are some amazing courses and software available online that have helped to make all this possible for me.
I hope that my story can inspire you to be brave enough to take the first tentative steps toward reconnecting with your own creative side, no matter how many years may have passed by.
I believe that we all have a well of creativity inside us but perhaps just don't know how to get started or don't feel like we have time or even worse believe we just can't do it.
And that is why this blog exists! To help you start your own creative journey. Whether you want to self-publish your own books, learn how to draw, paint or use digital illustration software I have experience in all of these areas and my blog is a place to help you on your journey.