How To Create Free Printable Quote Coloring Pages At Home
Do you love coloring pages? Do you love quotes? Well, then I have the perfect activity for you!
In this tutorial, I will show you how to create printable quote coloring pages for free at home. All you need is some printer paper, a printer, and a few minutes of your time.
I will provide you with an example design so you can follow along and create it with me. So what are you waiting for? Let's get started!
Printable Quote Coloring Pages In 5 Easy Steps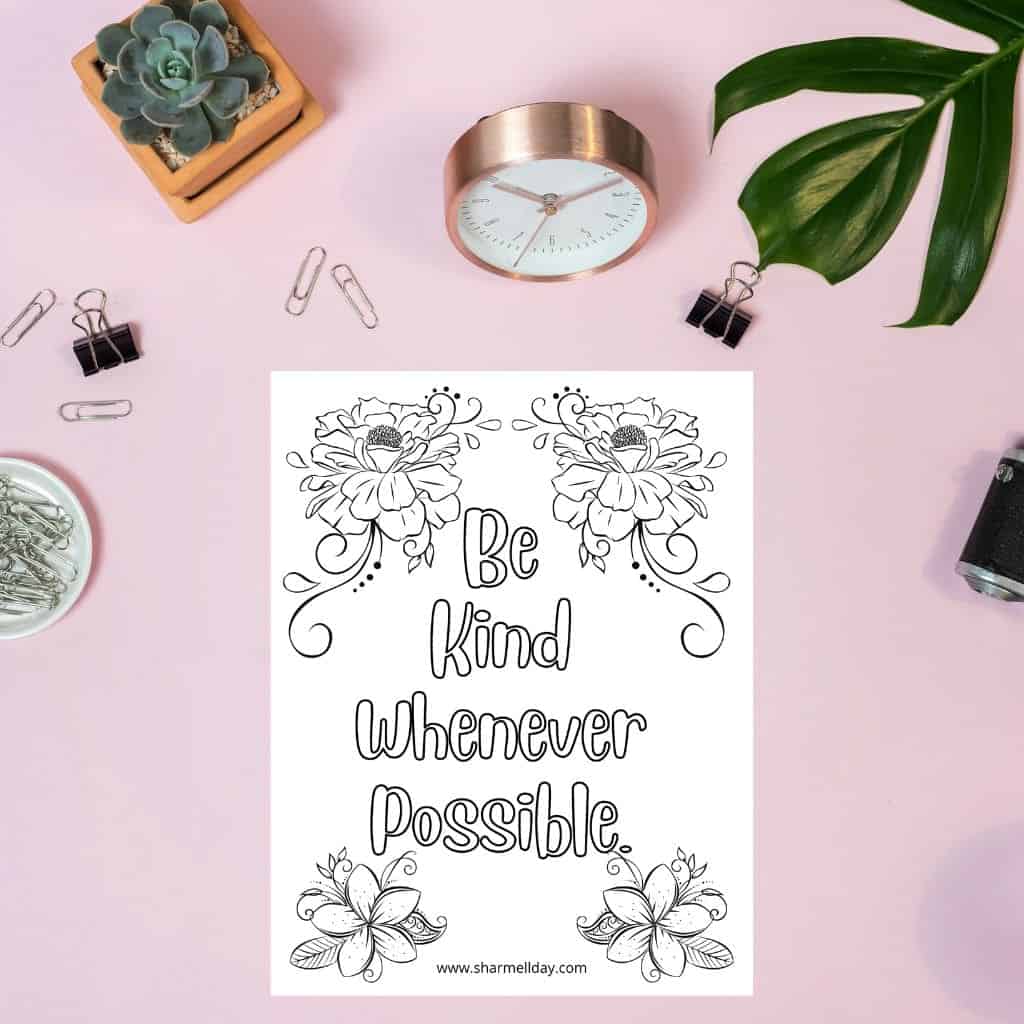 For those of you who have never done anything like this before it may seem like a daunting task. But if you use my example design as your guide it should make things easier.
You can follow along and create the same or a very similar printable quote design to get you started and then once you know the basics you can expand your creativity and make something entirely different and unique to you.
Step One
Sign up for a free account with Canva.com. This is very simple and straightforward to do and will not take you very long to do.
Step Two
Click on the create a design button located in the top right-hand corner of the screen. In the search bar that appears type in 'US Letter Document' and this will give you an 8.5 x 11 inch document size.
Step Three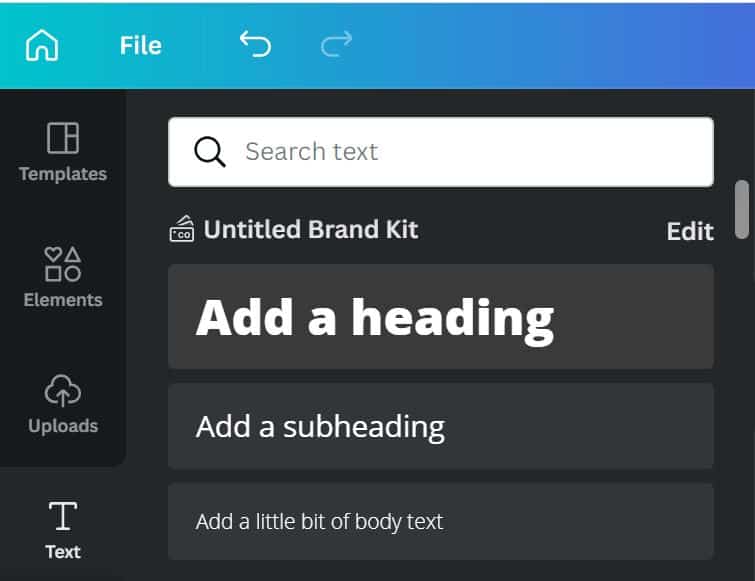 Select text from the left-hand menu and click on the add a heading button. Once the text shows on your blank document type in the quote you have chosen.
If you need some quote inspiration then check out my list of 75 art captions and quotes or you can simply use the same quote I have which is "Be Kind Whenever Possible".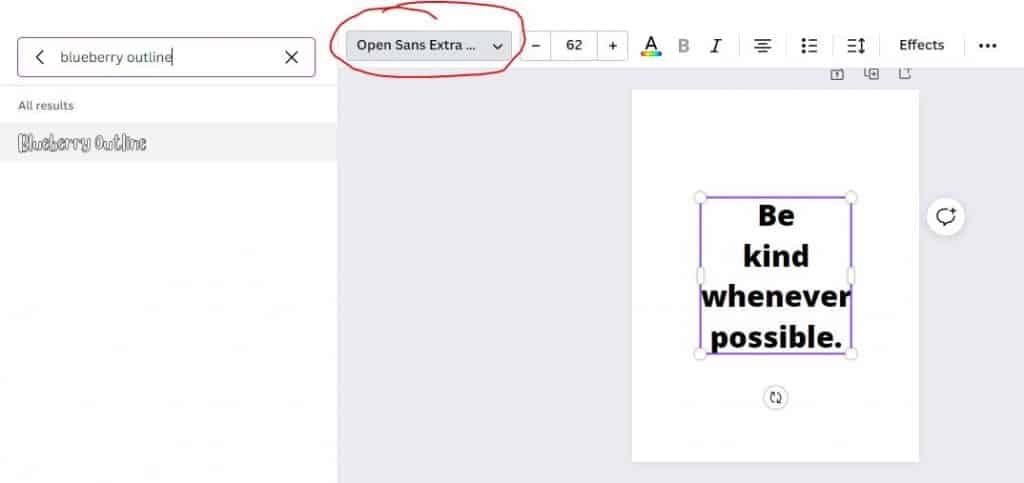 Highlight the text quote on your document and then click on the drop-down arrow at the top of the page where you should see the font name displayed as 'Open Sans Extra'.
This will open a list of fonts on the left-hand side. In the search bar type in 'Blueberry Outline' and click on that font and it will immediately update the font on your design. If it does not make sure you have all the text highlighted and then follow the steps again.
Step Four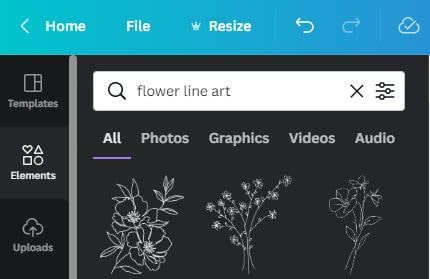 Now it's time to make the quote printable more attractive by adding some flowers. Click on elements on the far left-hand menu and type 'flower line art' in the search bar.
If you see a design with a crown icon you cannot use it with a free Canva account. You have to have a pro or higher paid subscription account to use these designs. So with that in mind make sure to pick only the free images.
When you click on a floral design it will show up on your document and by dragging the corners you can make the image larger or smaller. You can also use the flip button to rotate the image horizontally or vertically. So play around with this until you are happy.
Add as many flowers or other elements as you like and don't forget you can use the search bar to help you find the design elements you are looking for.
Step Five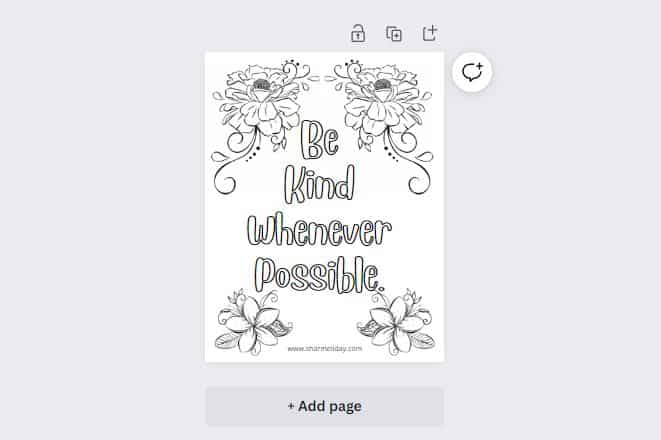 All that's left to do now is download your quote printable as a PDF document so you can print it and color it in.
This is very easy to do in Canva, as it gives you several choices of how you would like to download your document.
Click the share button located in the top right-hand corner of the screen then follow these steps:
Select download
Choose the PDF print option
Click the download button
Voila! You've done it! You have now created your very own 100% free quote printable coloring page.
All you have to do now is rinse and repeat to create as many printable quote coloring pages as you wish.
Conclusion
I hope you enjoyed this tutorial on how to create printable quote coloring pages for free at home.
This is a great activity to do when you need a break from work or if you're just looking for something creative and fun to do.
If you followed the steps, then you should now have your very own printable coloring page that you can print out and color to your heart's content. So what are you waiting for? Get coloring!
If you would like to color the design I created in this tutorial, then you can find it here: Free Printables: 10 Beautiful Kindness Quote Coloring Pages.
Wondering what other creative hobbies you might enjoy? Check out my list of creative hobby ideas for some inspiration.