How to Create Your Own Festive Christmas Border Paper Printable
'Tis the season for all things merry and bright…including your very own Christmas border paper printable!
Whether you want to spruce up your holiday snail mail or simply add a festive touch to your Christmas decor, this DIY project is the perfect way to get into the spirit of the season.
And the best part? It's super easy to make!
This tutorial is going to involve using a very simple graphic design tool called Canva and in case you want more choices for graphics, we will also look at Creative Fabrica, which has an insane amount of options!
You can create a free account by heading over to their website Canva.com. The process is quick, and easy, and will only take you a few minutes of your time to set up.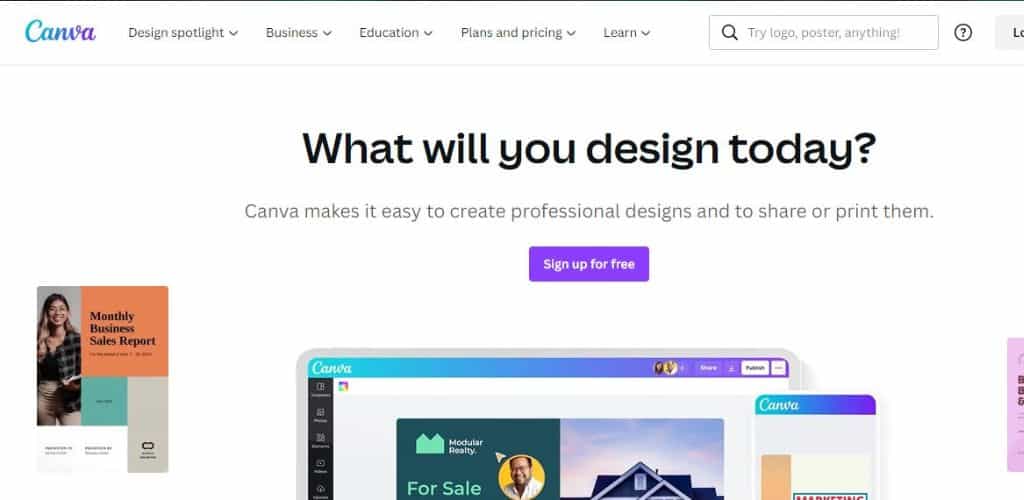 Step Two: Create A Design
Once you're logged in, click on the "create a design" button in the top-right corner of the screen.
From there, select "US letter Document or A4 Document" from the list of suggested options.
This will create a blank template in the document size you selected.
If you want to create a different size then you can simply click on "custom size" and type in the size dimension you require.
Step Three: Customize Your Design
To create your free Christmas borders just head on over to the left-hand menu and click on "elements" and then just experiment with typing in holiday season phrases like "Chrismas border" or "large Christmas tree gold star" into the search bar and see what pops up.

If you need some inspiration on what type of festive phrases to type in the search bar then this list might help:
Christmas bells
Christmas ornaments
Santa Claus
Fairy lights
Christmas trees
Garlands
Red ribbon
Mistletoe
Reindeer
Stars
Poinsettias
Christmas stockings
Candy canes
Snowflakes
Gingerbread
Red bow
Christmas lights
Red ornament
Take your time and browse through to find the right images you like and then click on them so they will be placed onto your blank document.
Then you can move them around, reshape and even flip the design to make it horizontal or vertical to fit your needs.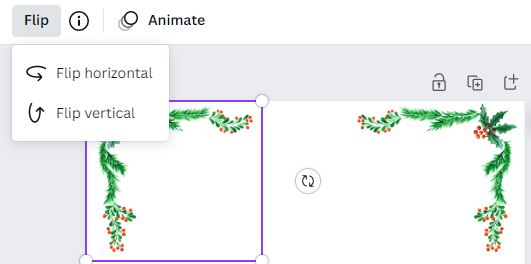 You can also combine multiple graphics to get the result you desire. Below are the two designs I created using only the graphic elements available in Canva.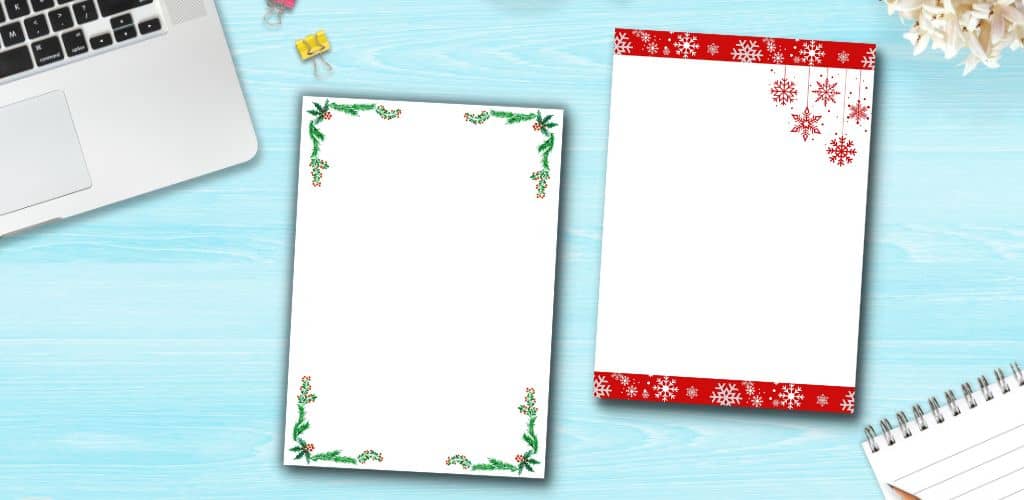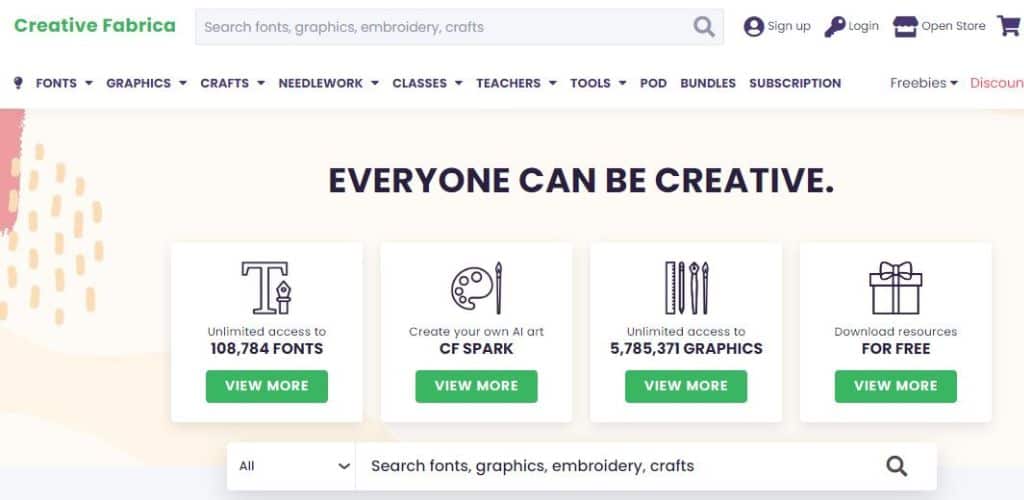 Creative Fabrica is not free, but they often have discounted pricing and even offer free products, so they are worth checking out.
They have very good terms of use so don't worry as they allow both personal use as well as small commercial use. But as always with these things, it's a good idea to check their terms yourself.
Now there is a crazy amount of choice on Creative Fabrica when it comes to graphics so in order to find what you want it is definitely easier to use the search bar.
You can try using the keywords in the list above and I've also provided some more helpful search phrases below:
Holly borders
Page borders
Border papers
Christmas border images
Christmas present
Holly frame
Adorable Christmas border
Colorful ornaments
Digital borders
Christmas gift
Transparent background
Stationery design
Printable pages
Digital papers
When you have chosen your graphics the first step is to download them from Creative Fabrica and then extract them from the zip file.
Then open up Canva and create a new design. I created an A4 size document, but you can adjust the dimensions to whatever size suits you best.
Then upload your graphics to Canva by clicking on "Uploads" on the left-hand menu.
This will show an "Upload files" button under the search bar. Click on upload files and locate the images you want to import into Canva.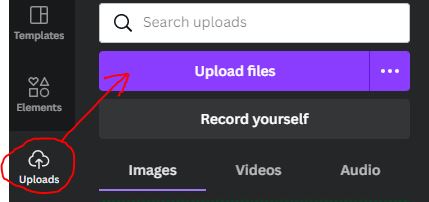 Once uploaded you can use these new graphics however you want in your design!
I downloaded 2 festive graphic packs from Creative Fabrica to create these designs.
If you want to use the same graphics elements I used in this tutorial for your Christmas border paper printable designs, then the Creative Fabrica links are:
Once your graphics elements have been uploaded into Canva you can manipulate them however you want, by changing the size, flipping the designs, and even cropping part of the image.
I used the crop feature on my Christmas tree design so I could create the border down the left and right-hand sides of the page.
Step Five: Download Your Christmas Border Paper Printable
Once you are happy with your festive border paper design all that is left to do is download it as a pdf so can start using it.
To do this click the "Share" button in the far top right-hand corner of the screen and then you will see the option to download your design.
Click the "Download" button and select file type "PDF Print" and then hit the download button again. And that's it! You have just created your very own Christmas border paper printable that's ready to use.
Tips On Creating Your Christmas Border Paper Printable
As these designs are going to be printed it's important to keep in mind the bleed around the edges of your document in Canva.
Luckily for us, there is a very handy option inside Canva to help with this very problem. When you have your document open click on "File" in the top left-hand corner. This will open a drop-down menu from which you will see the option to "Show print bleed".
When this option is selected you will see a border appear around the inside of your document to show you the bleed area. You can unselect this option when you no longer need it.
The second tip is that if you upgrade to a Canva pro account you will have a lot more options open to you in terms of elements and what tools are available for you to use.
You may have noticed that there is a crown icon on a lot of images that you cannot use in your design if you have a free account. However, if you choose a Pro account you will be free to use everything Canva has to offer.
Conclusion
I hope this tutorial has shown you that overall, using Canva and also Creative Fabrica to design your own Christmas border paper printable is a quick and easy process that anyone can do – no design skills necessary!
So if you're looking for a unique and personal way to add some festive flair to your holiday season this year, give it a try! You might just surprise yourself with how creative you can be!
If you're in the mood for more creativity then you'll love my other Canva tutorials that show you how to make your own printable bookmarks and quote coloring pages.