DIY Valentine Printable Bookmarks: Easy And Fun Gifts For Your Loved Ones
It can be tricky to find the perfect unique gift for that special someone, but these DIY Valentine printable bookmarks are sure to please!
This is a quick and easy project that anyone can do, and it makes a great gift for teachers, friends, and family members.
Plus you can customise them however you like. So get creative and show your loved ones how much you care with these beautiful bookmarks! So let's get started!
3 Easy To Make DIY Valentine Printable Bookmarks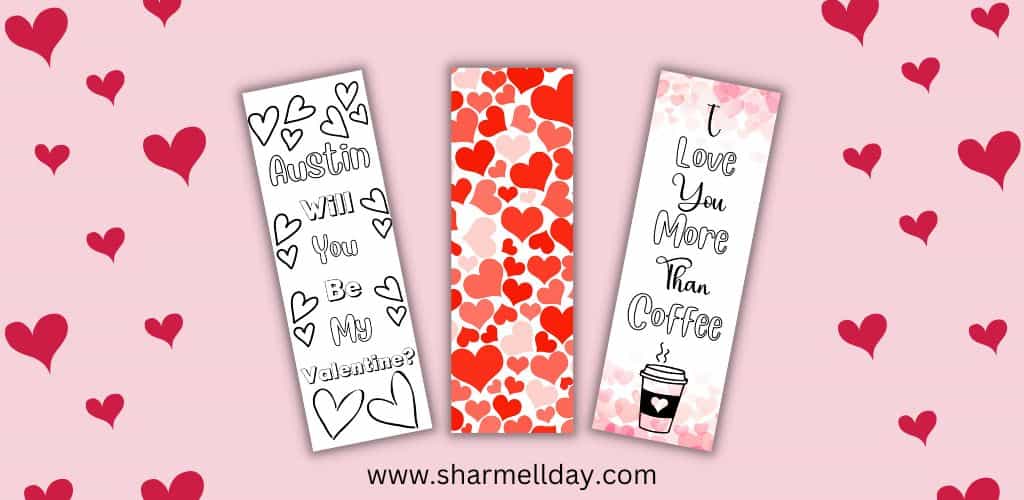 The 3 designs we are going to make are:
Personalised valentine colouring bookmark
Repeat pattern valentine bookmark
Quote valentine bookmark
All three of the DIY Valentine printable bookmarks that I'm going to show you how to make will be created using a free online graphic design tool called Canva.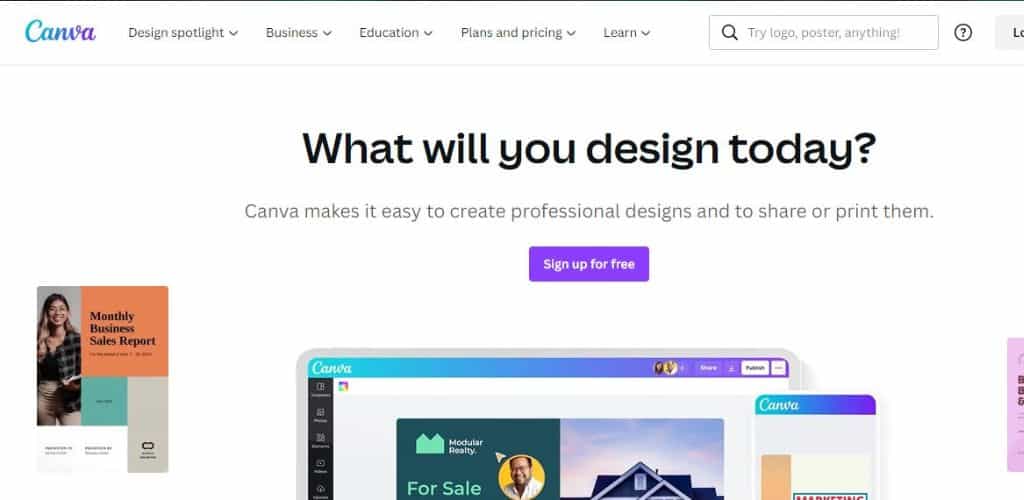 Creating a free account on Canva.com is quick and easy and will only take you a few minutes.
Create A Design
Once you're logged in, click on the create a design button in the top-right corner of the screen.
From there, select Bookmark from the list of design options. This will create a blank bookmark template that is 2 inches wide and 6 inches high.
If you want to create a bookmark in a different size then instead of selecting the bookmark template you can instead click on custom size and type in the size you require.
Customize Your Designs
Canva has a lot of pre-made bookmark design templates for you to use, but we are going to create something 100% personal and unique so we want to start with a blank document.
Design 1 – Personalised Valentine Colouring Bookmark
First, let's add some text by clicking on text on the left-hand menu and then clicking on the add a heading button.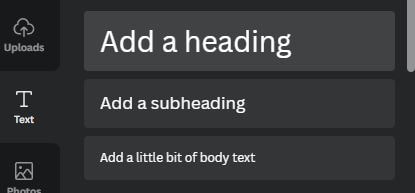 Once the text shows on your bookmark document simply type whatever text you want.
My Valentine's bookmark is going to read "Austin will you be my valentine?", which will appear in the default text font which is currently Canva Sans.
The fonts I'm using are called Blueberry Outline and Quebab Shadow. It's worth mentioning here that if you have a free Canva account you do not have access to everything.

You'll notice a crown symbol next to some elements which means they cannot be used with a free Canva account.
So, if you want to use certain design elements and fonts like Quebab Shadow you will need a Canva Pro account. But it's not required as you can simply choose from the free options.
Now let's add some valentine's design images that can be coloured. To do this click on elements on the left-hand menu and in the search bar that appears type in phrases like "heart outline" or "heart line art" in order to get images that you can colour.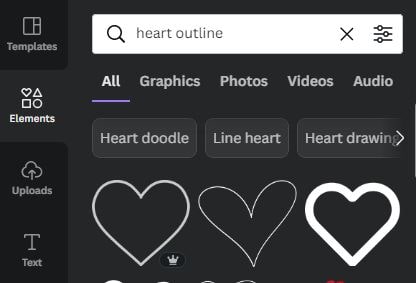 Try out other phrases until you find what you are looking for, and when you do find an image you like simply click on it and it will drop onto your bookmark document.
From there you can move it around and reshape it as you please.
Design 2 – Repeat Pattern Valentine Bookmark
This is a super easy design to create as there is no text involved, you're simply picking out a valentine-themed pattern or just a pattern that you know the person you are creating the bookmark for will love.
Underneath your first bookmark design, click on the button that says Add Page to create a new blank bookmark.
Then click on elements on the left-hand menu and in the search bar that appears type in a phrase like "heart background" to bring up some choices. Again experiment with your search choices to find exactly what you are looking for.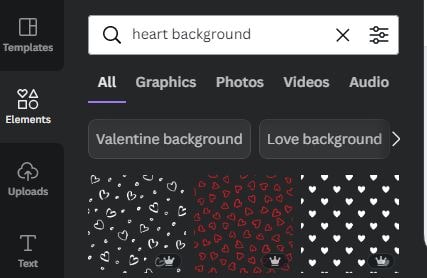 When you find what you want just click it or drag and drop it onto your bookmark and this design is done!
Design 3 – Quote Valentine's Bookmark
To create a new design just click on the button that says Add Page underneath your second design to create a new blank bookmark.
To make this final bookmark design you can use a:
Favourite book quote
Song lyric
For this third design, we are going to combine what we have done on the other two designs and choose a background, fonts and design elements to create the perfect bookmark design.
I've gone with a funny quote and so my bookmark design reads "I love you more than coffee".
Download & Print
Once you are happy with your designs and have created as many bookmarks as you like, then all you have to do is print them, cut them out and then gift them to the people you love for Valentine's day!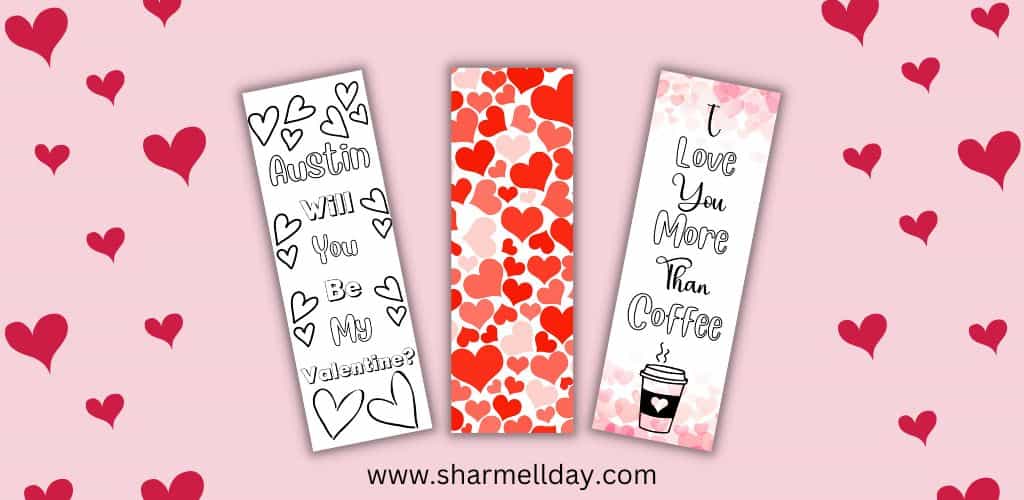 Tips On Printing Your Valentine's Printable Bookmarks
You do not want to simply download your designs straight from Canva as a pdf document and try to print them out, as the size of the bookmarks will be all wrong.
Instead, you have to take a few extra steps in order for them to print them out correctly.
First, click the "Share" button in the far top right-hand corner of the screen and then you will see the option to download your design.
Click the "Download" button and select file type "JPG" and then hit the download button again. This will download all your bookmark designs together as a zip file. Extract the files and save them.
Then upload your bookmark jpg images into Canva by clicking on "Uploads" on the left-hand menu. This will show an "Upload files" button under the search bar.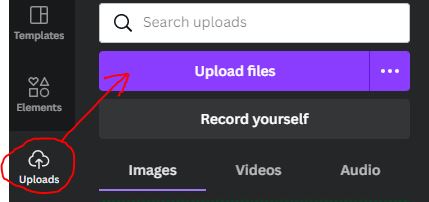 Click on upload jpg files and locate the bookmark images you want to import into Canva.
Finally, you need to add your bookmark designs to your blank bookmark template printable, which will allow you to print up to 4 bookmarks in the right size on a single sheet of paper.
Conclusion
There you have it, three super easy and fun bookmark designs that you can create as DIY Valentine's Day gifts for your loved ones.
I hope that you will have fun and experiment with more than just these three designs once you realise how simple they are to create using Canva.
Happy Valentine's Day!