Step-By-Step Guide To Creating Your Own Succulent Printable Wall Art
Looking for a unique way to add some life to your walls? Why not try succulent printable wall art? It's easy to do and can be customised to fit any space.
In this tutorial, I will show you how to create your own succulent wall art using a few simple steps. So you can have your new DIY wall art hanging on your walls in no time!
Create Your Own Succulent Printable Wall Art
Step 1 – Succulent Images
First, you will need some succulent images, so we're going to explore 3 options in this tutorial:
Jasper AI Art

Jasper AI Art is a text-to-image artificial intelligence (AI) tool that will allow you to create succulent printable wall art using simple text prompts.
If you want to learn more about just how cool Jasper AI Art is here are use helpful resources:
To create my succulent image I'm going to use the text prompt "single succulent plant, violet, purple, blue".
The best part about creating an image using Jasper AI Art is that you get to decide exactly what colour you want your succulent art to be so it will match your decor.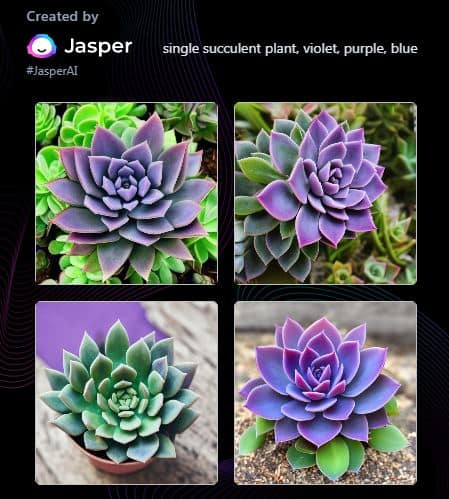 Another great benefit of creating images with Jasper AI Art is that it creates 4 images at a time meaning in just a few clicks you can generate many different unique pieces of art.
Creative Fabrica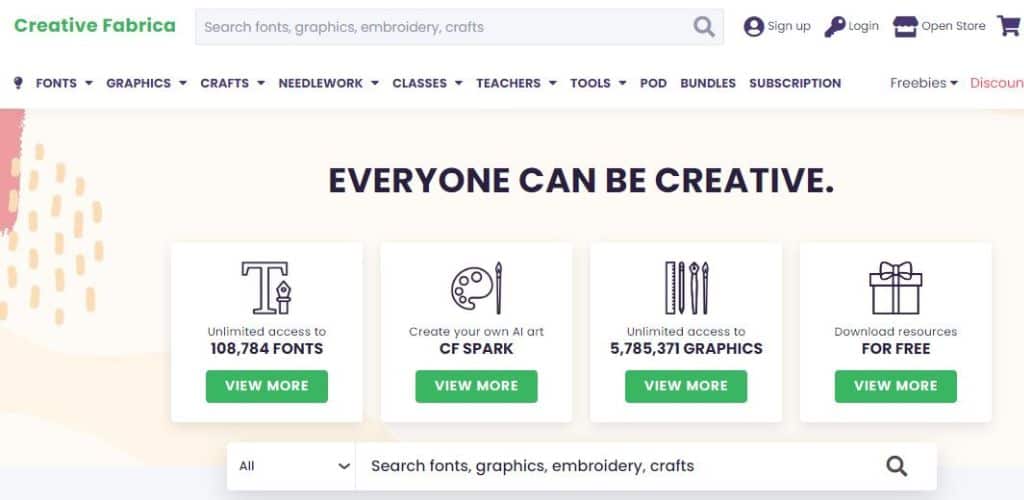 Next, Creative Fabrica offers tons of succulent images that you can purchase and use in your own succulent wall art.
Simply search for succulents, and you'll find a variety of succulent images to choose from.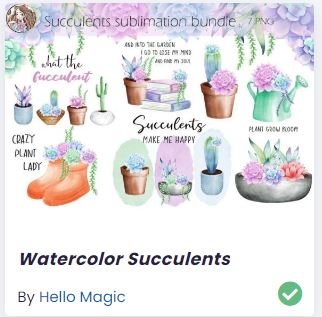 I'm not gonna lie, it took me a while to pick something as there are a lot of gorgeous graphic images on Creative Fabrica, but in the end, I settled on a design bundle called Watercolor Succulents
Canva.com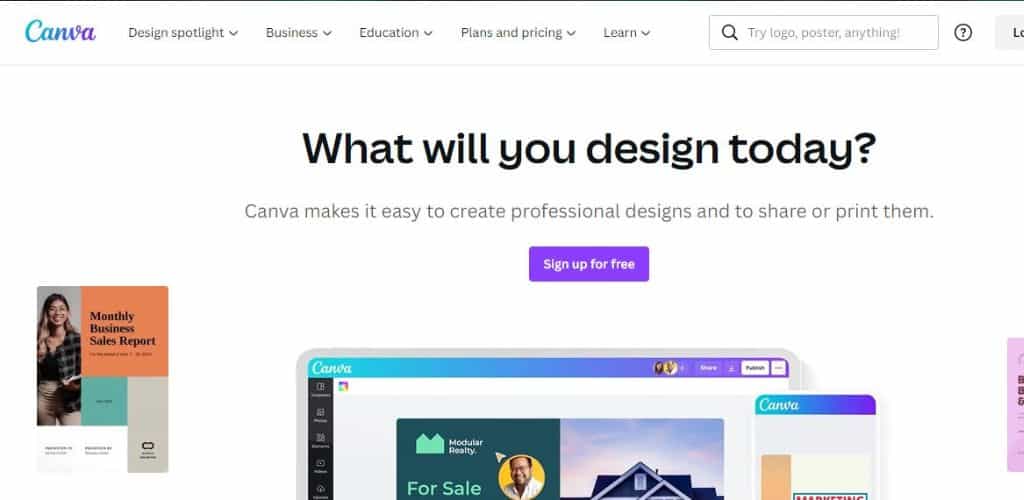 Finally, Canva.com is a great resource for creating succulent printable wall art. If you don't already have a Canva account it's free to use, so just take a few minutes and sign up.
Once you are inside Canva, just open a document and go to Elements and search for "succulents" and you will find tons of graphics.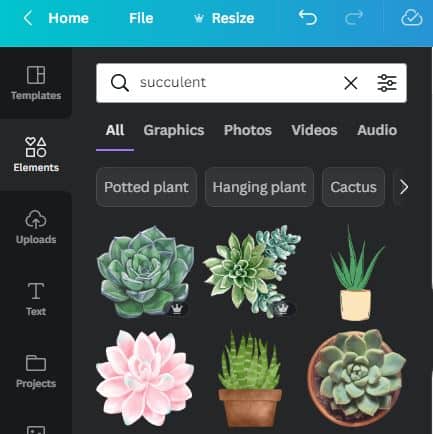 However, it is worth mentioning that if you see elements with a crown symbol then it means you cannot use them if you have a free Canva account. Only people who have a Canva Pro account can access these elements.
Step 2 – Create Your Succulent Wall Art In Canva
The easiest way to create your succulent wall art is by using Canva, and I'm going to show you exactly how to do it step-by-step.
Once you're logged in, click on the "Create a design" button in the top-right corner of the screen.
Then click on "Custom size" and type in the size you require. I'm going to create an 8×10-inch document, but you can create whatever fits the frame size your going to use to hang your wall art.
Then upload the images that you created using Jasper AI Art or purchased from Creative Fabrica or elsewhere into Canva by clicking on "Uploads" on the left-hand menu.
This will show an "Upload files" button under the search bar.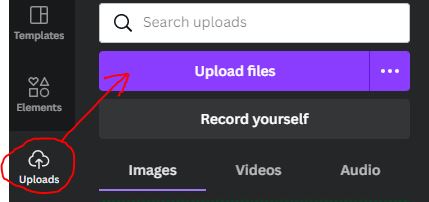 Once uploaded you can drag and drop the images onto your blank document and arrange them however you like and even add text and use Canva's text effects if you really want to create something that stands out.
If you're using Canva's own graphics then just search inside Canva for the design elements you like and add them to your document.
Step 3 – Print And Hang Your Succulent Wall Art
When you've finished creating your perfect wall art design or multiple designs, then you can download them directly from Canva as PDF documents ready to print.
To do this click on the Share button in the top right-hand corner and then select PDF Print and tick the option that says "Flatten PDF"
Finally, if you have a Canva Pro account then you can also select CMYK (best for professional printing).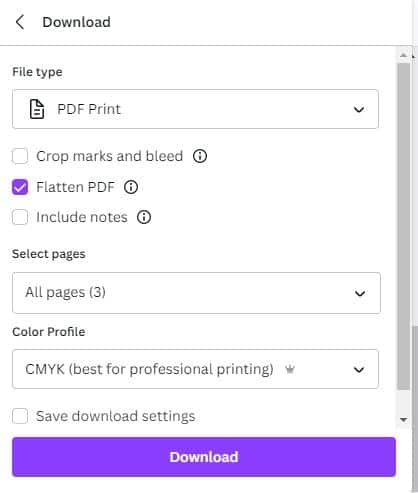 Now all that's left for you to do is print your wall art either yourself at home or at your local print shop. Then hang your beautiful succulent wall art and enjoy!
Tips On Framing Your Printable Succulent Wall Art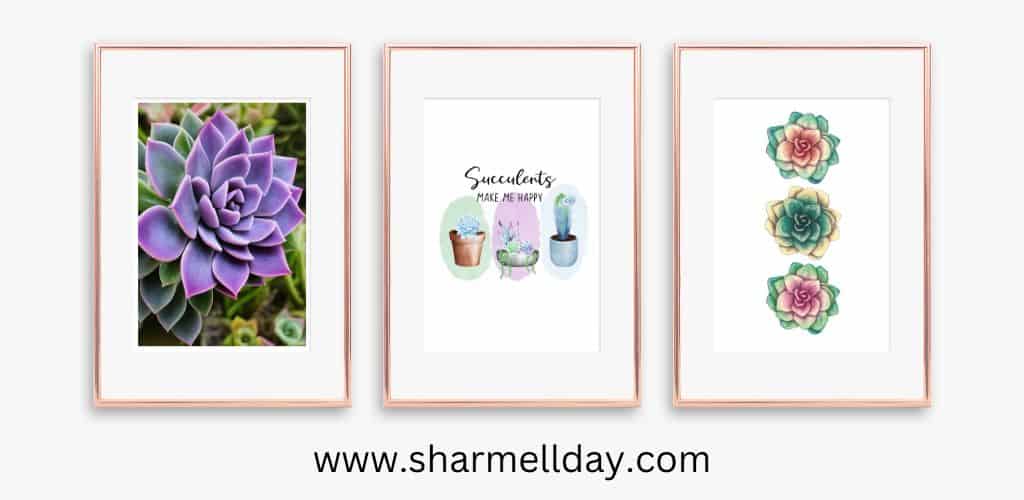 Once you've created and printed your art print you might now be wondering; how do I frame my art prints?
Frames come in all shapes and sizes, so it's best to make sure that the size of the frame will fit your print perfectly and create an impressive wall display.
In addition to this, it's also important to consider different materials such as wood and metal, as well as the colour of the frame.
Consider where you are going to hang your art print and look at the colours of the walls and the furniture in that room so you can select a frame colour that will match.
And last but not least, think about whether you want to use glass or acrylic, as this will also affect how your succulent wall art looks when hung.
Remember, you don't have to stick to one succulent art print; you can create a wall display with multiple succulent prints in different frames and sizes. This will give your succulent wall art an added dimension and look great!
Conclusion
Creating succulent printable wall art is a great way to add some unique style and character to your home decor.
With the help of Jasper AI Art, Creative Fabrica, and Canva it is easy to create beautiful succulent images that you can hang up as wall art in just a few clicks.
So why not give it a try and see how you can add succulent wall art to your home today!